Award Winning Bridal Hairstylist
2015 ABIA QLD BRIDAL HAIRSTYLIST
2016 BRIDES CHOICE AWARD WINNER
2017 BRIDES CHOICE AWARD WINNER
'I want to say a big thank you to all my beautiful brides that have rated my services and have helped me achieve these awards! I am so grateful, honored and happy that I can make each bride feel and look beautiful on their special day!
Looking forward to meeting all my future brides! xx'
Play the video to see many different hairstyles that I have created for my beautiful brides and their bridal party. I'd love to look after you for your special day and I'm happy to advise and create the style of your choice!
"Your wedding day should be full of happiness and beauty. Looking flawless should just be the start, so what could be better than having your own professional Bridal Hair Stylist and Makeup artist for your special day!"
We come to you with a wealth of experience helping you feel relaxed and at ease. We'll work closely with the bride and all other professionals to ensure the best wedding hair results, capturing your unique style and beauty.
Wedding Services
– Contact Melissa for all bridal bookings, enquires and quotes for your wedding day!
Wedding Hair Services
Bridal Hairstyling
Bridesmaids' Hairstyling
Junior Bridesmaids & Flower Girls
Mothers & Grandmothers
Bridal Trial Hairstyling
Makeup Services
Airbrushing
Conventional Makeup
Individual/Strip Lashes
Make up Trials
Important Points To Note
A non-refundable deposit is required to secure your group booking.
Minimum of 5 people for weekend bookings for Gold Coast, Brisbane & Byron Bay.
Travel / call out fees may apply for bookings; the fee varies depending on location.
Parking fees may apply if free parking is not provided eg. Hotel or CBD parking.
I am available to travel interstate – flights and accommodation must be organised for me.
Hair & Makup Trial
Hair and Makeup trials are highly recommended to discuss your preferences and to demonstrate your desired look. We can organise the hair and make-up trial on the same day so you can see the complete look! Once you're impressed and happy, all your details are recorded to ensure smooth running on your wedding day.
I work with amazing makeup artists who are very talented and specialize in Bridal/Formal make-up! Whichever look you are after bold and striking or more natural and soft, they will have you looking and feeling beautiful for your special day!
Also available is professional hair care and maintenance leading up to your big day. I can expertly advise in all aspects such as style cuts, colours and treatments, to make sure your hair is in the best condition for your big day!
For a hassle free, fun and relaxing experience make your wedding booking with me today!
Wedding Hair & Makeup Services
We'll create a unique look especially for you using only top quality products.
Our attention to detail and passion for beauty will leave you feeling truly amazing!
Testimonial
Dear Melissa

Thank you so much for making my wedding such a magical fairy tale! My hair was just perfect and I loved getting ready with you. When I first told you how I would like my hair, you just knew what I wanted and you made my hair look so beautiful and gorgeous and…. it also stayed in all day and all night!
You have such a fun bubbly personality and you helped make the morning so much fun as we were all getting ready!
What I loved also was that you came to me and I could get ready in my room without having to go anywhere.
You really are an amazing hairdresser and I am so happy how stunning my hair turned out.
Thank you so much for everything and I am so excited for your future brides!

Heidi xx
16/05/2015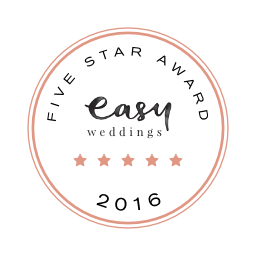 Heidi with her bridal party on her wedding day!
We specialize in taking the time to listen to your specific needs, so you can receive the look that you've always dreamed of!
Tips & Advice for Brides to be!
For a Perfect Hair / Makeup Trial
what to bring and how to prepare yourself!
Pictures!
Bring along pictures of hairstyles and Make up that you like! Also save a couple of pictures of what you don't like! This will help the artist create the perfect look for you! Clearly mention what you love and what you dislike.
Pictures of your wedding dress and bridesmaids dresses, bouquets and jewellery you intend to wear, this will give the artists a starting point for creating the perfect look for you!
Prepare your hair!
Clean Hair:
wash your hair the night or day before, do 2 shampoos and not too much conditioner, rinse out well!
No products are to be put in the hair eg. Serums, smoothing creams, argon oil etc.
Blow-dry your hair as smooth as possible without putting a straightening iron over it.
Don't tie up your hair in a messy bun! Leave it out or in a loose pony tail.
Hair Accessories!
Bring along any hair clips / veil fascinator etc. to see how they look in your style!
Hair Extensions!
Do you have enough hair to create your desired hairstyle? If you require extra length or thickness, the best is clip-in Hair Extensions! Ask me for recommendations!
Hair Colour!
Have your hair freshly coloured 1-2 weeks before your trial. This will dictate your make up tones and will also be easier to work with your hair!
Prepare your Skin!
Clean Skin: Cleanse skin and apply a light moisturiser, no makeup.
Skin allergies?
Mention any skin allergies or concerns you may have.
Eyebrows!
Get them waxed or threaded, also your upper lip if needed too! This will make your make-up sit better on your skin!
Spray Tan!
If you are having a Spray tan for your wedding day it is a good idea to test it out before your make-up trial!
Book Hair and Make-up Trial together
This is a great way to see the complete look put together!
Book your trial for a special event
Have your trial when you have a special event on such as birthday party, hen's party, a girl's night out, baby shower. You can wear your complete look out and put it to the test! What to wear? Wear neutral / white top or clothes so you can get an idea how everything will look on the day!
Bring a Friend!
Bring a supportive friend or family member with you!
On Your Wedding Morning!
Have a good Breakfast!
Drink plenty of water, as its going to be a long exciting day!
Get your favourite playlist ready!
It will get you grooving throughout the morning feeling great and having fun! Call the hotel or venue in advance to see if they have an iPod dock or bring your own!
Room to get ready!
The best room to get ready in are big enough for all your bridesmaids, hair and make-up artist, photographers, family members. Access to a power point, table or bench space and a room with lots of natural light!
Have an emergency set!
Pack a lipstick or gloss for touch ups, blotting tissue to remove shine if you tend to have oily skin, breath mints, Panadol, safety pins and tissues!
For your Wedding Makeup
Skin
Clean Fresh Face, You can apply a light moisturiser. Any allergies/sensitivities should be brought to our attention prior to the appointment so special arrangements can be made.
Face
Have your lips waxed/threaded and your brows waxed/threaded to avoid any unwanted shadows.
Tan / Wax
Ensure you do any waxing/shaving before your appointment. And also exfoliate your skin leading up to getting your tan!
For your Wedding Hair
Prepare Your Hair
Wash
Wash your hair the night or day before, do 2 shampoos and not too much conditioner, rinse out well!
Products
No products are to be put in the hair eg. Serums, smoothing creams, argon oil etc.
Blowdry
Blow-dry your hair as smooth as possible without putting a straightening iron over it.
Don't Tie
Don't tie up your hair in a messy bun! Leave it out or in a loose pony tail.
On the day
Shampoo your hair on the day of your wedding if you are having a blow dry or if your hair gets oily fast.
Changing
Wear a buttoned up / zip up or strapless top that is easy to change out of.
Morning Moisturiser
When putting your face moisturiser on that morning try to avoid applying it near or into your hairline.
Wedding Bookings
How far do we travel?
We cover Gold Coast, Brisbane, Byron Bay. (minimum of 5people)
Travel / Parking fees?
Travel / Call out fees apply depending on the distance required to travel. In the event that any hotel/motel and parking fees are incurred as result of the location of the booking, these will be passed on to the client.
How long does it take to do wedding Hair and Make-up?
Hair is 50-60mins per head and makeup is 45-60mins per head.
What is the maximum number in my bridal party that you can do?
We can cater to any amount you desire! With a great team of stylists we will look after you! On my own I can usually do up to 8 Hairstyles depending on what time everyone needs to be ready by! *WEEKEND BOOKINGS: A MINIMUM OF 5 PEOPLE MUST BE BOOKED IN FOR HAIR OR MAKE-UP!
If I reduce my numbers do I get penalised?
It is the responsibility of the client to advise of any changes to number of people booked in for hair/make-up services no less than 2 months prior to the booking date. If this has not been advised of within the time frame, there is a penalty of $80 per persons that you cancel.
Do you operate on Sundays or Public Holidays?
Yes we do. There is a Public Holiday surcharge – add 10% onto your service.
How early do you start?
We can start as early as needed to get the bridal party ready in time. If we are required to start work prior to 6am it is an additional $50 per stylist.
Do you require a deposit?
A deposit of $300 is required to secure your group booking. All deposits are non-refundable and non-transferable and are deducted from your total invoice amount.
Trials
Do you recommend Hair Trials and Make-up Trials?
Yes I do recommend doing trials! It is a great way to meet each other and discuss all the details of your day! Also to be able to create the perfect style and makeup for you and see how you feel and like it too! We will also discuss your bridesmaid's looks to establish timings for the day as well. I recommend organising your trial on a day such as your hen's night or a special event so you can wear it out and see how everything feels!
Do I have to have a trial?
No you don't have to, it is personal choice, as some people live interstate and is hard to get together before hand! Some brides are happy with my testimonials and portfolio and feel comfortable with no trial!
When should I book a Trial in?
I recommend arranging your trials about 2-3 months before your event / wedding day!